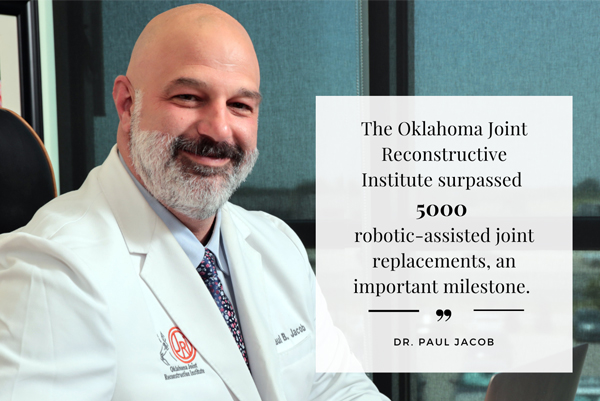 With great honor, the Oklahoma Joint Reconstructive Institute has surpassed an important milestone, performing over 5000 robotic-assisted joint replacement surgery. Thanks to robotic technology, I can provide my patients with a new level of accuracy and precision.
The remarkable football coach, Bear Bryant, once said to "Set goals – high goals for you and your organization. When your organization has a goal to shoot for, you create teamwork, people working for a common good."
Over the past few years, I have set goals for my practice, which included embracing technology in joint replacement, as an early adopter robotic technology in hip and knee replacement. The Mako SmartRobotics™, pioneered by Stryker, provides additional information in each operation, enabling the surgeon's ability to optimize the procedural plan to ensure the best possible outcome. Robotic-assisted joint replacement surgery can improve clinical outcomes by enhancing the alignment and position of instruments and implants.
The use of robotics offers value to each patient. As a provider, it is gratifying to know that every step my patients take is a step toward a complete recovery. Innovative robotic arm technology allows patients' cost savings with a faster recovery and return to an active lifestyle. Furthermore, the use of robotic technology in joint replacement surgery has a lower risk of infection and less pain.
Recently, the Surgical Review Corporation (SRC) awarded my practice as a Master Surgeon in Joint Replacement and Robotic Joint Replacement. This distinguished accreditation recognizes the Oklahoma Joint Reconstructive Institute's commitment to providing the highest quality of care to patients undergoing joint replacement surgery, meeting internationally recognized standards of excellence.
With great honor and gratitude, I thank my patients, colleagues and team for allowing me to have the greatest job and provide the best orthopedic care possible, continuing to work toward the goal of improving joint replacement outcomes.
AUTHOR: Dr. Paul Jacob is a certified master surgeon in joint replacement and robotic joint replacement of the hip and knee in Oklahoma City. Dr. Jacob is recognized as one of the Top 3 Orthopedic Surgeons in Oklahoma, who has performed over 5000 robotic joint replacement procedures. Dr. Jacob is active in numerous research studies on joint replacement technology and robotic outcomes.