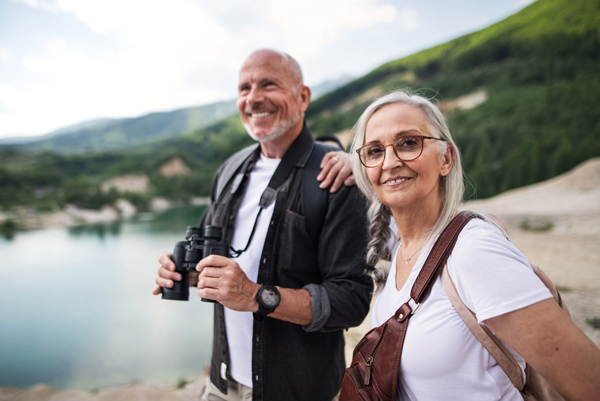 Over a million Americans have knee and hip replacements every year to improve their quality of life.1 If you are considering joint replacement surgery, there is hope for an amazing comeback story. But don't ask us, just hear what our patients have to say.
At 79 years old, Bonnie hiked Pikes Peak after a total hip replacement surgery. Mount Kilimanjaro was next on her list. Her new hip allowed her to climb 19,341 feet in the Tanzanian rainforest.
Bill returned to his passion, played baseball in a senior league, and even went to nationals. Bill's knee pain had gotten so bad that he could no longer run the bases. After replacing both the left and right knee in just a few short months, he was back to playing in tournaments. "I recommend Dr. Jacob to all my teammates and competitors I play with.
David returned to running marathons after this total knee replacement. David had knee issues most of his life and stayed active until one day, the pain became unbearable. He continues to run marathons following his knee replacement surgery. "Dr. Jacob gave me hope that I could keep running into my 80s and feel healthier than ever".
The goal of hip and knee replacement is to restore mobility, for an active lifestyle.
Patients have better outcomes today, with the addition of robotic technology in joint replacement. The Mako SmartRoboticsTM system is one of the most advanced robotic arms in orthopedic surgery today. Evidence shows that it can improve clinical outcomes and decrease complication rates in clinical studies. Robotic surgery can improve the accuracy and precision of joint replacements.2
Recovery times are reduced by half with the Mako robotic technology.3 Compared to traditional knee and hip replacement surgery, Mako involves less inflammation and pain during recovery. Using Mako technology, surgeons can better align your joints, allowing you to walk more naturally and sooner.
Most patients can go home the same day as surgery, and get up and walk just hours after their surgery. The Mako technology allows for greater precision, which results in a more natural-feeling joint. You must undergo physical therapy following your joint replacement surgery to recover best from your surgery for at least six weeks.
Healthy, active and motivated patients often have the option to recover at home after total joint replacement surgery. Patients are in touch with our care team throughout the recovery process. Outpatient joint replacement can help patients return to a healthy and active lifestyle.
Joint replacement with today's medical advancements using robotics, joint sensors, better pain management and anesthesia options, and improved surgical techniques help many active adults make a comeback. Our patients do remarkable things after joint replacement, with some amazing comeback stories. The Oklahoma Joint Reconstruction Institute can help you make the ultimate comeback after hip and knee replacement.
AUTHOR: Dr. Paul Jacob is a certified master surgeon in joint replacement and robotic joint replacement of the hip and knee in Oklahoma City. Dr. Jacob is recognized as one of the Top 3 Orthopedic Surgeons in Oklahoma, who has performed over 5000 robotic joint replacement procedures. Dr. Jacob is active in numerous research studies on joint replacement technology and robotic outcomes.