Patient Stories
Patient Video Testimonials
Patient Written Testimonials
How do you spell excellence? I spell it OJRI. When it comes to joint replacement, patient care and bed side manner, Dr. Paul Jacob is leading the way. Excellence starts at the top. It is clear that Dr. Jacob runs his practice from a patient perspective. He and his team aren't just nice, caring and compassionate, they are leaders in their field, true professionals who use state-of-the-art art technology to bring about excellent outcomes. As someone who has faced many skeletal and joint challenges, surgeries and treatments, I can speak firsthand about the difference Dr. Jacob and his team make in the lives of their patience. It is more than a profession for Dr. Jacobs, it is a calling. I am very grateful for the gifts and talents he has put into practice. I have regained a quality of life of thou
- Stephanie
I absolutely love Dr Jacob's office and staff. Randall Pape is the most fabulous PA around! He listens! Thank you for getting me worked in for a guided hip injection today.
- J Lynn O.
Just completed Disney half marathon!!!! Post surgery 9 months.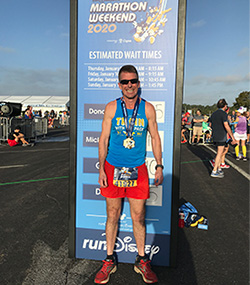 I cannot say enough good things about Dr. Paul Jacob, his PA, Randall Pape, and Community Hospital North. Dr. Jacob did a full hip replacement for me in November 2018 and while I knew it was an easier recovery than knee replacement, I was unprepared for how easy and almost pain-free it was. I then had Dr. Jacob perform a total knee replacement in November 2019 and was again in disbelief at how fast my recovery was. I will not tell you there was no pain but it was minimal compared to my previous knee replacement and to what others were expressing after knee replacements with other doctors. I was off of my pain meds after one week and walking with no assistance after two weeks. Amazing!! I would encourage anyone who is contemplating a hip or knee replacement to use Dr. Jacob. You might have to wait to get in to see him but it will be well worth your time.
- Teresa S.
I had endured knee pain for years, had two previous arthroscopic surgery with different surgeons, and had run out of options other than total knee replacement. Dr Jacob had performed a partial knee replacement on my other knee a few years back and I was very happy with the outcome. However, I was not looking forward to a total knee replacement and kept putting it off. I wish I didn't . A big thank you to Dr Jacob and his surgical team. Had the surgery end of March and by Jun was vacationing, walking up and down hillsides, pain free. Thank you again
- Kristy S.
Dr. Jacob and his team have been an answer to prayer. Had total hip replacement on May 9 and July 10 (both hips). The difference it has made to my life is amazing. Dr. Jacob is a genius with a heart and a God-given talent for what he does. The surgery and healing were far easier than I imagined. Certainly easier than living in pain. Randy, Kristy, the pre and post-surgery and surgery teams, the hospital nurses, I just can't say enough nice things about them all. Home PT with Progressive Health made my recovery swift and sure. I am 6 weeks post-op on my last hip and I am back at the gym walking laps and back to my usual daily routine with the exception of prescribed hip precautions for another 6 weeks. That's a long way for a woman who couldn't even walk up the block without extreme pain a few months ago. I can't thank Dr. Jacob enough for giving me back my life.
- Pam J.
I can not say enough good things about this Doctor and his staff. From start to finish I have had a great experience. Absolutely top notch.
Two knee replacements, February 2018 and November 2018. Absolutely thrilled with the process and the results. My mobility is unrestricted in every way and there is no more pain. Not only is Dr. Jacob a genius, he has surrounded himself with an incredible team, in the office and in the hospital. His pain management program was very beneficial to me because it allowed my rehab to progress effectively and better than expected. I am 67 years old and these replacements have allowed me to maintain a very active lifestyle - golf, hiking, swimming, bicycling and daily walks! I will be an ambassador for Dr. Jacob for as long as he continues to improve the quality of people's lives.
- Daniel R.
Very happy with my surgery and my care. This was much easier than I expected.
Doctor, hospital, office staff all 5 star experiences. I have recommended Dr. Jacob to several people and all have said the same thing.
Hip replacement went amazingly smooth. A year after the procedure I am doing everything I was doing before; gardening, hiking and in general just living without that awful debilitating hip pain! Dr Jacobs is excellent.
I had run out of time and options and desperately needed to have my hip replaced but at the age of 42, there is a lot at stake. Dr. Jacob and his team are phenomenal. My recovery has been very smooth and quicker than I had even dared to hope for. I was back to work, attending my kid's band concerts and basketball games 2-3 weeks after my surgery. I'm so thankful to be able to return to my busy life pain free!! Thank you so much for an extremely successful surgery and outcome!
- Andrea S.
Excellent service! I feel like I got the best care. My incision looks great!! Feel great at 4 weeks out.
- Angela D.
He is a gifted surgeon and wonderful doctor. I would never think of using any one else for a knee replacement.
- John M.
WOW Dr. Jacob is a rock star in the OR and out!! He is truly gifted in what he does! The staff as well have been wonderful and caring. I never felt rushed or confused about what was going to happen. My pain has been kept under control. The hospital was amazing to let my husband stay all night with me and he even ate the same meals I ate. Everyone is so wonderful. I would recommend Dr. Jacob to anyone and if I need something fixed or tweaked in the future, his office will always be on speed dial.
- Rhonda B.
The absolute best of the best! I am a week out of surgery and I am better then I ever have been with my other surgeries by leaps and bounds! if I didn't know better, I wouldn't think I had a total knee revision last week!! Yes I have pain but in comparison to my previous other surgeries it's nothing! Dr Jacob is amazing at what he does! Wish I could of met with him years ago and saved myself the multiple other knee surgery!
- Jeannie F.
Nothing but greatness. Excellent outcomes. Have not heard one negative thing about him.
- Grayson S.
This guy is on another level. No other orthopedic surgeon in the state can hold a candle to Dr. Jacob. We were so lucky to find out about him.
He is an outstanding physician. I had an infection from prior knee surgeries. He took care of it and I am well on the road to a complete recovery. His skill is the very best. He and his staff are courteous, respectful, friendly and professional.
- David E.
Best of the best! Dr. Jacob did both total hip replacements on me and he did a spectacular job on both hips. I couldn't walk at all and now I'm strong and able to have a normal life. I trust Dr. Jacob with my life.
WOW! Dr. Jacob has changed my life, literally. I've always been an active person, work hard, play hard. I discovered when I retired a year ago that my knees were really bad. My activity level was 0. Now, 3 weeks post op from my second knee replacement, I am amazed at how great I feel. All without pain. I will forever be grateful to Dr. Jacob and Kristy, his PA-C.
- Carol B.
This was my best doctor/patient relationship ever! Dr. Jacob is so great at explaining every little detail so nothing was a surprise to me. He really listened to my concerns from a surgery I had with another doc and addressed them all. He was quick to respond via email. He showed great kindness in the hospital before and after surgery. The surgery was great and recovery has been super. I would recommend him and his staff over and over.
- Susang.
Dr. Jacob and his staff are excellent people. They are very knowledge about their work and explain everything thoroughly so that the patient understands. Very courteous and accommodating. After doing my knee replacement, I have felt better than I have in over 20 years. I did everything Dr. Jacob asked, and I have had a speedy recovery. I highly recommend Dr. Jacob for knee replacements!
Under Dr. Jacob's excellent care, all I can say is that you are never too old to have a total hip replacement! My mother's was done in 2016 at the age of 89 and she has no regrets. Following physical therapy religiously, the entire process from operation to walking without a walker or cane was only 7 weeks. With a previous hip replacement on her other hip 10 years ago, she was left with a leg-length difference of 1/4 inch. In surgery, Dr. Jacob was able to even out her legs. It is truly a gift not to rely on lifts and inserts for her shoes anymore. Without a doubt, Dr. Jacob is outstanding and, thanks to him, she has quality of life and can walk without pain! One final note, please, Dr. Jacob, take that horrible photograph down from your website! You are much better looking in real life!
- Mollie L.
Dr. Jacobs explained my knee issues. Answered my concerns. But most of all, he was up front on the expectations, and prepared me as to what to expect. I have now had both knees done. His physical therapist, Jennifer, is an extension of his top quality of care.
- Sherri L.
Amazing hip replacement surgery performed, in and out quickly, precise after surgery care, no detail left to chance!
I would recommend Dr Jacob to anybody needing total knee replacements. Dr Jacob and his staff are highly skilled and compassionate.
- Donald C.
Dr. Jacob was professional from start to finish. I saw three doctors before making my decision. Best decision I have ever made. Thank you Dr. Jacob
Exceptional - the very best at what he does - did my hip and could not be happier.
Dr. Jacob is the best, very caring! He did my knee replacement 11 weeks ago, not a lot of pain . I was off pain meds in 6 days, walking with a cane after 1 week. I am doing very well because Dr. Jacob is so good at what he does. If you need a knee or hip replacement, please make an appointment with Dr. Jacob.
Awesome surgeon with an awesome staff! Dr Jacob changed my life - highly recommend!
- Dennis B.
He is a great surgeon & former Physical Therapist. Wouldn't hesitate to recommend him.
- Kim B.