Post-operative Instructions
You will wake up in the recovery room with a number of monitors to record your vitals (blood pressure, pulse, oxygen saturation, temperature, etc.). You will have a dressing on your incision.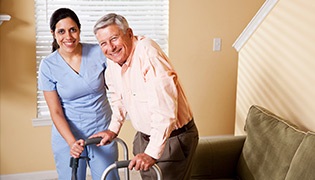 Post-operative X-rays will be performed in recovery.Once you are stable and comfortable you will be taken to the regular nursing floor. You will have an intravenous line in your arm for fluid and pain relief. Your anesthesiologist will explain this to you. You will also receive a nerve block prior to surgery issued by your anesthesiologist. Dr. Jacob will inject Exparel (a long acting numbing medication) during your procedure as well. The nerve blocks take 3-6 hours to take full effect. The goal of the nerve block is to have you up and walking within a few hours of your surgery.
On the day following surgery, you will usually receive two physical therapy sessions.You will begin working on walking and getting your range of motion back. The therapists will instruct you on how to safely perform your activities of daily living (walking, stair climbing....).
Your pain will be well controlled with the blocks, however, there will be pain medication ordered by Dr. Jacob that you can request as well.You will be able to put all your weight on your hip or knee (in most circumstances) and your physical therapist will help you with the post-op exercises.
You will be discharged to go home or a rehabilitation hospital after 1-2 nights depending on your pain and help at home. In most circumstances Dr. Jacob does not use sutures or staples that are exposed to the outside world. There will (in most cases) be no sutures or staples to remove in the office.
A post-operative visit will be arranged prior to your surgery.
You will be advised about how to walk with a walker for one to two weeks following surgery and then using walking aids for another four to six weeks as needed. You will be discharged with a set if discharge instructions and the nurses will review them in detail prior to your discharge.
To help you recover from surgery, please download and review the instructions below:
Nutrition to Aid Your Recovery

This nutrition program is created to bridge the gap between postoperative nutritional stress and faster, healthier recovery. We strive to change the way the medical industry looks at post-operative nutrition routine and holistic outcomes by providing nutritionist designed and physician inspired nutrition program for patients. We are devoted to fit each patient's unique post-op nutrition and calorie needs.
You will need the Adobe Reader to view and print these documents.